Cherry-Chocolate Duo: A Happy Gourmet Marriage!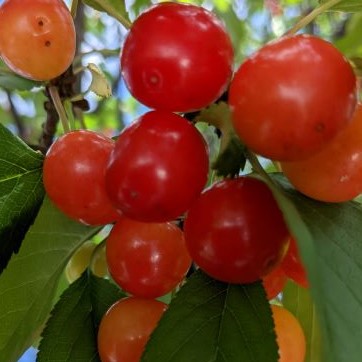 Ingredients:
1 ½ cup of kamut flour
1 cup of almond flour
1 cup of brown sugar
2 tsp. of baking powder
½ tsp. of salt
1 cup of vanilla yogourt
½ cup of canola oil
2 eggs
2 tbsp. of honey
1 tsp. Aliksir vanilla extract
1 cup of cherries
1 cup of chocolate chips

Preparation:
1. With the rack in the middle position, preheat the oven to 350°F (180°C). Line 12 muffin cups with paper or silicone liners.
2. In a bowl, combine the flours, brown sugar, baking powder and salt.
3. In another bowl, combine the yogurt, oil, eggs, honey and vanilla with a whisk until smooth. Add the dry ingredients and stir with a wooden spoon or spatula until the dry ingredients are just moistened. Gently stir in the cherries and chocolate chips.
4. With an ice cream scoop, spoon the batter into the muffin cups up to the rim.
5. Bake for 25 minutes or until a toothpick inserted into the centre of a muffin comes out clean.
6. Let cool in the muffin cups.