A delicious soup that is easy to prepare and comforting. Perfect for warming up in November!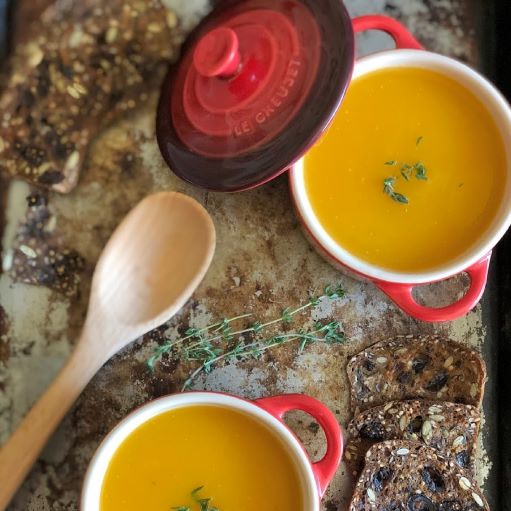 Ingredients
1 butternut squash (approx. 1 kg)
1 tablespoon Olive Oil
½ teaspoon salt
1 diced onion
2 tablespoons Olive Oil
4 cups of Vegetable broth
2-3 drops Ginger Gastronomic Oil
Salt and pepper
Preparation
Preheat oven to 350°F.
Cut squash in half lengthwise and place on a baking sheet lined with parchment paper.
Brush 1 tbsp. of olive oil on both squash halves. Sprinkle with salt.
Bake for 45 minutes or until tender.
Cool for 10 minutes. Remove fibrous part and seeds.
Scrape flesh with a spoon and set aside.
Cook onion in olive oil over medium heat for a few minutes, stirring.
Add squash flesh, vegetable broth, ginger gastronomic oil, salt and pepper.
Bring to a boil and simmer over low heat for 10 minutes.
Purée the soup in a blender. Adjust seasoning if necessary.