Have you heard about OCNI ("Objets Comestibles Non Identifiés" or unidentified edible objects)? This dynamic factory located in Montreal offers sharpenable seasoning, just like a pencil! They are made of natural vegetal products, including Aliksir essential oils. A couple curls suffice to enhance the flavour and the look of your dishes! Here is one of their best recipes:
Recipe created by: Epiphane Garcia, Loïc Guilbert, Damien Donson, Enzo Duncan and Morgan Khenfouf. Students in BTS Hôtellerie-Restauration at CFA Sud Formation CCI Nîmes Marguerittes.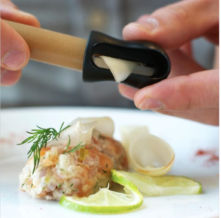 Ingredients

For 4 servings:
250 g salmon fillet
1 French shallot
1 pear
1 bunch dill
Olive oil
Salt and pepper
Preparation
Cut the salmon in small cubes with a sharp knife. Set aside in a cool place.
Cut the pear also in small cubes and chisel the French shallot.
Chop the dill and incorporate it to the salmon, pear and shallot blend, adding olive oil, salt and pepper.
Delicately plate up the tartare with a pastry cutter in the centre of the plate.
Just before serving, sharpen and place the salt and lemon seasoning curls on top of the tartare. Serve fresh.